Product Lists & Information:
---
• Home
• Place an Order
• Snacks, Gifts, & Misc.
• Favorite Recipes
• Photos of our Farm
• FAQ
• Contact Us
• Helpful Links
---
Stay updated!
Join our email list to receive occasional news about site updates, new products, sales, and more. We promise not to give your address to anyone else, and you're free to unsubscribe at any time.
---
Get in touch:
2475 340th St.
Laurel, IA 50141
(641) 476-3373
pauls@paulsgrains.com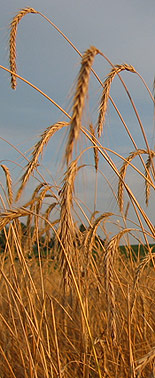 We hope you come back again!



Flours Price List
Click on the name of the each grain below for information about it, recipes, etc. Grains that we have not raised ourselves, but have purchased from other organic farmers, are marked with an asterisk (*). If you have questions on how to use any of these products, or are interested in having us do some custom milling, please contact us! We are glad to help you in any way.
Printer-friendly product list is

here.
~ How to order ~
---
7-Grain Pancake-Waffle Mix
Paul's Grains' Pancake-Waffle Mix is so good that it "sells like hotcakes"! Once you enjoy the delicious, full grain flavor, you'll never want to go back to white pancakes! This product is a unique blend of wheat, rye, oats, barley, corn, and buckwheat, and a simple recipe is included on the package. All you need to add is milk, oil, eggs, and honey (optional).
This item is also available as part of our Best Sellers Sampler Pack.

Back to Product List






"My wife recently purchased some pancake and waffle mix from you...Last weekend we enjoyed the waffles and yesterday we made pancakes. I have to say, these were the best-tasting pancakes and waffles I have ever had. Most of our past batches [with mixes from other companies] have left our stomaches roiling a bit, but your mix left us feeling great! I just wanted to thank you for your fine product!"
--Central Iowa Customer

7-Grain Flour
Paul's Grains' 7-Grain Flour is made of the same nutritious grains as the 7-Grain Pancake Mix (the only difference is that the 7-Grain Flour does not have the salt and baking powder added). This product is wonderful for adding to your favorite bread recipe (click here for one of ours), and customers also enjoy using it to make pancakes and waffles, biscuits, cookies, and more.
Back to Product List

"...and those pancakes -- wow! They don't even make you think you're eating something healthy. They're just good. Some things make you think you're eating trees or something. :-) "
--Central Iowa customer




Corn Baking Mix
One of our newest products, the Cornbread-Muffin Mix has quickly become very popular. Baking powder and salt is added to the delicious open-pollinated corn flour, so you only need to add milk, oil, eggs, and honey (optional) for a tasty result. The quick and easy recipe is included on the package. This is so good, you'll want to have it every day!
This item is also available as part of our Best Sellers Sampler Pack.

Back to Product List






"My husband is allergic to wheat, and Paul's Cornbread Muffin Mix has been the best we've found anywhere -- it's gluten free. We love it!"
--Central Iowa Customer

Whole Wheat Flour or Wheat Graham Flour
Paul's Grains' whole wheat flour is a staple you won't want to be without! Its delicious flavor makes it a welcome addition to any recipe calling for flour. You may substitute whole wheat for part or all of the flour in a recipe, according to your preference -- just experiment! Wheat graham flour is more coarsely ground, and used more sparingly for additional fiber and flavor. Click here for recipes which call for whole wheat flour.
Back to Product List

"I made whole wheat pancakes with your flour and they're just awesome!"
--Central Iowa customer

Rye Flour or Rye Graham Flour
If you like the taste of rye bread, you will enjoy the delicious flavor of Paul's Grains' rye flour! The rye graham flour is slightly more coarsely ground, for extra flavor and fiber.
Back to Product List
Spelt Flour
Spelt flour can be used as one would use whole wheat flour -- it adds a hearty flavor to nearly any recipe. Want more information about spelt? Click here. Also, here are some recipes which work for spelt flour.
Back to Product List
Soy Flour
Some people like to add this flour to breads, etc. for more nutrition. It does have a stronger flavor so you wouldn't add a large quantity to baking.
Back to Product List
Buckwheat Flour and Buckwheat Pancake Mix
The obvious use for this product is buckwheat pancakes and waffles -- a real treat for many people! Simply substitute into your favorite recipe, replacing up to 100% of the flour, depending on your preference. Click here for our favorite pancake and waffle recipes. We also now offer an actual Buckwheat Pancake Mix, complete with a recipe, which makes baking even simpler.
Back to Product List

"My brother told me about your business. We tried buckwheat pancakes at his house last weekend. They were heavenly! The quality and freshness of your flour is superior. Can't wait to get my own stash!"
--Paul's Grains Customer

Oat Flour
This flour is primarily used by those who have wheat allergies. It can be used in pancakes, bread, etc., but may make it somewhat heavier, depending on how much you use.
Back to Product List
Barley Flour
Barley flour makes delicious, light-colored pancakes that are surprisingly light, even when 100% barley is used. Click here for our favorite pancake and waffle recipes. You can also add it to breads, etc.
Back to Product List
Rice Flour
Rice flour is a popular choice for those who are allergic to wheat. It can be substituted into any recipe, according to your taste.
Back to Product List
Millet Flour
This flour can be added to bread. It is gluten-free so some people have successfully used millet flour in various applications.
Back to Product List
Pastry Flour
This is essentially whole wheat flour, but is made using "soft" wheat, rather than "hard." Because it is lower in gluten, it's not as good for bread, but is perfectly suited for pie crusts and other pastries.
Back to Product List
Corn Flour
Made of the same delicious (non-hybrid) corn as our cornmeal, this corn flour is simply ground a little finer. Some peope prefer this for cornbread and such, while others prefer the "homey" texture of our cornmeal.
Back to Product List

"I actually met [Steve] at your farm about a year ago. Your operation is so unique, and the quality of the flour I bought was absolutely unsurpassed... I'm a little ashamed that it's taken me so long to finally place an order.
But I'm sure it won't be the last time. "
--Central Iowa customer

Unbleached Flour, Regular and High Gluten
This flour is an excellent substitute for basic "all purpose" white flour which is commercially available -- it has not been bleached or treated chemically, yet it is whiter and lighter than whole wheat flour. Using part unbleached and part whole-grain flour results in delicious, light bread. Because of the processing needed to make this flour, we do not grind it ourselves, but instead purchase it from a reliable, chemical-free source.
We currently carry two kinds of unbleached flour: one is labeled "High Gluten"and is an ideal bread flour for yeast breads. The "Artisan" works great for cookies, quick breads, etc. It also works great for yeast breads, but it may not have quite as much gluten in it. Both are made from 100% organic red wheat.
Back to Product List
---