Product Lists & Information:
---
• Home
• Place an Order
• Snacks, Gifts, & Misc.
• Favorite Recipes
• Photos of our Farm
• FAQ
• Contact Us
• Helpful Links
---
Stay updated!
Join our email list to receive occasional news about site updates, new products, sales, and more. We promise not to give your address to anyone else, and you're free to unsubscribe at any time.
---
Get in touch:
2475 340th St.
Laurel, IA 50141
(641) 476-3373
pauls@paulsgrains.com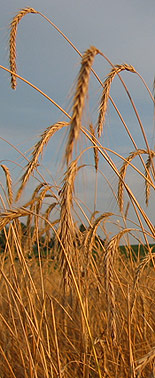 We hope you come back again!



Whole Wheat Bread or Buns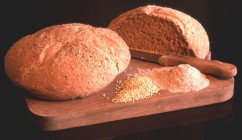 Mix together:
1 1/2 - 2 Tb. yeast
1 tsp. honey
1 cup warm water

Let stand 5 minutes, till foamy. Add:
1/2 cup honey
1/2 cup oil
1 egg
2 cups liquid (milk, water, or combination)
3 cups flour (We use a combination of whole wheat and unbleached flour... spelt, 7-Grain, or other flours may also be used. Just experiment!)

Mix thoroughly (approx. 600 strokes). Let stand 20 minutes.

Add:
2 tsp. salt (we use RealSalt)
3 cups flour
(OR, 1-2 cups cooked Paul's Grains' 7-Grain Cereal may be added at this time, for a delicious flavor. Other cracked grains, such as cracked wheat, spelt, or rye also work.)

Mix thoroughly. Add enough flour to make kneadable (approx. 2 cups).

Knead until good consistency. Place in oiled bowl and let rise until double in size. Punch down. Divide dough in half and place in two large oiled bread pans -- or shape into buns and place on greased cookie sheet. Bake at 325 degrees for 50-60 minutes for loaves and 20 minutes for buns.




---