Product Lists & Information:
---
• Home
• Place an Order
• Snacks, Gifts, & Misc.
• Favorite Recipes
• Photos of our Farm
• FAQ
• Contact Us
• Helpful Links
---
Stay updated!
Join our email list to receive occasional news about site updates, new products, sales, and more. We promise not to give your address to anyone else, and you're free to unsubscribe at any time.
---
Get in touch:
2475 340th St.
Laurel, IA 50141
(641) 476-3373
pauls@paulsgrains.com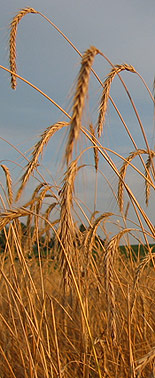 We hope you come back again!




If you have a question that you do not see listed here, please drop us an e-mail or call us, and we will do our best to help you!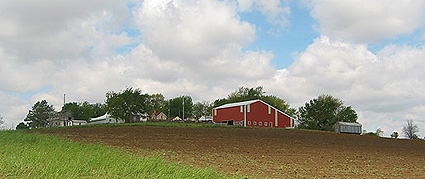 Paul's Grains' farm, May 2005...more pictures from our farm are

here.
What is spelt, and how can I use it?
Spelt is a very ancient grain, similar to wheat. In ancient Europe and Asia it was considered the tastiest grain with its nutty flavor. After the 19th century it was forgotten, partly because of the lower yield in comparison to wheat.

Ecologically, spelt is the ideal grain, growing well without pesticides or insecticides. It requires a minimum of care and grows in any climate. It has a strong husk or hull (similar to oats) which has to be removed. It is this protective coating which defies pollution and makes it good for storage.

Spelt has a delicious flavor, and is very nutritious; it contains both soluble and insoluble fiber and is a rich source of vitamins. In most recipes, it can be used just as one would use wheat, from baking to thickening gravy. Sometimes a person who is allergic to wheat will be able to eat spelt, because the gluten in spelt is more easily digested.
Back to top
Are Paul's Grains products organic?
Our farmland has been certified organic with OCIA. We have not used any chemicals at any stage of production since 1964. Our milled grain is advertised as being "all grown without chemicals" and we take care to keep all products high quality and chemical-free.
Back to top
What are the ingredients in Paul's Grains' 7-grain products?
The ingredients are: wheat, rye, oats, barley, soybeans, buckwheat, and corn. The 7-grain cereal also has flax seed added.
Back to top
Can Paul's Grains products be used in a bread machine?
Yes, many of our customers have used our products in bread machines. Since these machines vary quite a bit from model to model, you'll have to experiment with the percentages until you find the combination that is perfect for you and your machine. Click here for many tips and several favorite recipes shared by a customer, Mrs. Elaine Carr.
Back to top
Can Paul's Grains products be used in a microwave?
Though we don't have a microwave ourselves, many customers have told us that they have found them to work well with our products. However, we discourage microwave use when possible, as we have read how they often destroy many of the nutrients which otherwise are in the grains.
Back to top
What can I do with flax seed?
There are many testimonies as to the health benefits of flax seed. One customer told us that her cholestoral dropped 100 points after taking flax seed daily for some time, and others have told us of similar results. We have read recommendations that a woman eat 3-6 Tb. a day, and that a man eat 6-9 Tb.

We use a small nut grinder (a coffee grinder or high-speed blender also works) to grind flax seed, and then sprinkle it on top of hot cereal, such as oatmeal. It adds a delicious, nutty flavor, and is very nutritious. Whole flax seed can also be cooked with hot cereal, or added to bread, though the most nutrition is gained when the seed is ground and eaten fresh. Anywhere you would use nuts, you can use flax.

We have had customers share various uses with us, such as making a tea for help with arthritis, combining it with honey and lemon juice for a cough syrup, adding it to a blender drink, and some even put the flax seed in a small cloth bag to put on their eyes when they are tired.

Flax seed makes an excellent egg substitute. Simply grind 1/2 c. of flax, add 2 c. water, and blend for 2 minutes. 1/4 c. of this mixture equals 1 egg. This keeps at least 3-4 days in the refridgerator.

Click here for a delicious Flax Seed-Date Ball recipe a customer shared with us.
Back to top
Will my children enjoy Paul's Grains products?
We have many customers who say that their children enjoy our natural products more than they enjoy traditional grain products. If your family is not receptive to trying new foods, you can make the transition slowly. Once they taste the wholesome flavor of our products, they more than likely won't want to go back to the other. :-)
Back to top
What is the name of the corn Paul's Grains sells?
Our corn is Reeds Yellow Dent -- it's an open-pollinated variety. Many customers comment on its delicious flavor, and say it makes the best cornbread ever! This is because it is completely natural; open-pollinated corn has been shown to contain extra protein and is minerally balanced.
Back to top
What is Quinoa, and how can I use it?
Quinoa (pronounced "Keen-wa") is a truly ancient grain that comes from the Andes Mountains of South America. It was one of the three staple foods, along with corn and potatoes, of the Inca civilization. Quinoa contains more protein than any other grain; it is a complete protein, with an essential amino acid balance close to the ideal. It is a rich, balanced source of vital nutrients, and is light, tasty, and easy to digest.

It is quick and easy to prepare -- steam it as you would rice, and it will be done in 15 minutes. Quinoa can be substituted for almost any grain in any recipe, either hot or cold. It has a delicious flavor all its own, and children enjoy it. We use it as we use rice, in casseroles, soups, etc. It is also an excellent side dish, or a hot cereal.
Back to top
Do you offer a bread mix?
No, at this time we don't offer a special bread mix. However, our 7-Grain Flour always comes with a simple recipe of how to add it to bread, and you can see our favorite basic bread recipe here. Most of our products can be used in almost any recipe with great success.
Back to top
Is Paul's Grains' oatmeal steel-cut or rolled?
Our oats are always steel cut with our steel burr mill. We have avoided the rolling process because, to roll the grain, it must first be steamed, and thus many valuable nutrients are lost.
Back to top
What kinds of mills do you use?
We have several commercial-size mills of various types which we use. For personal use, many of our customers recommend the "Nutrimill" (electric) or the "Family Grain Mill" (hand-cranked).
Back to top
How can I substitute honey for sugar in recipes?
Honey can be substituted for sugar in most recipes. Since it is sweeter than sugar, you can substitute ½ cup of honey for every cup of sugar, and, because honey is a liquid, you should reduce the liquid in the recipe a little. Also, honey causes food to brown quicker when baking, so you may want to reduce your baking temperature by 25º. It takes a little experimenting, but the efforts are worth it. (Click here for an article by Teresa Paul about sugar/honey -- it will open in a new browser window.)
Back to top
---