Product Lists & Information:
---
• Home
• Place an Order
• Snacks, Gifts, & Misc.
• Favorite Recipes
• Photos of our Farm
• FAQ
• Contact Us
• Helpful Links
---
Stay updated!
Join our email list to receive occasional news about site updates, new products, sales, and more. We promise not to give your address to anyone else, and you're free to unsubscribe at any time.
---
Get in touch:
2475 340th St.
Laurel, IA 50141
(641) 476-3373
pauls@paulsgrains.com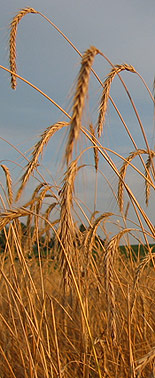 We hope you come back again!

"Thanks so much for the wonderful products you have. We just love them. I just again made the roasted soybeans. I haven't tried cooking the grits yet. I love grits. My husband is in cardiac therapy and always eats the 7-Grain Cereal every morning. We absolutely love your 7-Grain Pancake Mix. I have never had such wonderful pancakes. I tell everyone about your products and web site. Thanks so much." --Paul's Grains customer

Pioneers in Organic Farming
The early 1960s found Wayne and Betty Paul working hard to make a living from their central Iowa farm. Wayne had graduated from Iowa State University with a degree in agriculture and was now eagerly implementing chemical farming methods on the 160 acres south of Laurel, IA, which he had purchased in 1959.

Then everything changed. A friend introduced Wayne and Betty to the concept of chemical-free farming, using healthy fertilizers and natural techniques for weed and insect control. Deciding to give it a try, Wayne stopped using chemicals...and thus he became one of the brave pioneers in what was to be known as the organic farming movement.

As Wayne and Betty, with help from their four growing children, learned more about chemical-free farming, they became more and more convinced that it was the best method of raising food. Wayne began to look into grinding some of the grains into flour and cereal, starting out with basic cornmeal, oatmeal, and whole wheat flour. As people found out about these items, the family started raising a larger variety of grains and offering more products. Soon the unique 7-Grain Cereal, 7-Grain Flour, and 7-Grain Pancake Mix recipes were developed -- three items that continue to remain best-sellers.



Maintaining the Legacy


Wayne and Betty continued to play an active role in the farming and business until 2006. Their second son, Steve, lives on the farm with his wife Teresa, and continues to handle the flour and cereal part of the business. Grandson Daniel has taken on the responsibility of the fieldwork, with help from his wife Amy and their young daughters. Paul's Grains is definitely an old-fashioned, family-operated business...big enough to have what you're looking for, but not too big to lose that personal touch.

Paul's Grains products are available for purchase here through our website to customers located within the state of Iowa. If you're ever in our area, please give us a call and come visit the farm! We have a small store setup here, open by appointment (whenever we're home!), and would be delighted to show you around.

If you don't see what you're looking for on this site, please contact us. We frequently fill custom orders and will be glad to assist you however possible.

Joseph and Daniel heading out to cultivate soybeans, June 2006. More pictures from our farm are

here.
---

"Like" us on Facebook
to see more pictures and keep up with our latest news!
---
Notice:
We have decided to down-size our business by no longer filling wholesale or out-of-state orders as of August 31, 2013. We always welcome folks to stop by the farm and see our products in person - just give us a call to make sure we're home. If we're home, we're open!
---
Helpful information:
Printer-friendly product sheet
Want to print out a price list of our products to share with a friend? Need a handy offline price reference for yourself? Download our product list! (Updated April 2022)

On a gluten-free diet?
Mrs. Sarah Leslie of Ohio has shared many tips for gluten-free cooking. See them here, along with a collection of her favorite original recipes.

Need bread machine help?
Mrs. Elaine Carr of Oregon has shared many tips on baking with bread machines, as well as five of her favorite recipes -- click here!


---
Home
|
F.A.Q.
|
Recipes
|
Photos
|
Links
|
Contact
|
Order
Whole Grains
|
Cereals
|
Flours
|
Snacks & Gifts


Site design by

ASourceOfJoy Graphic Design,

© 2006 • Last updated: May 1, 2022