Product Lists & Information:
---
• Home
• Place an Order
• Snacks, Gifts, & Misc.
• Favorite Recipes
• Photos of our Farm
• FAQ
• Contact Us
• Helpful Links
---
Stay updated!
Join our email list to receive occasional news about site updates, new products, sales, and more. We promise not to give your address to anyone else, and you're free to unsubscribe at any time.
---
Get in touch:
2475 340th St.
Laurel, IA 50141
(641) 476-3373
pauls@paulsgrains.com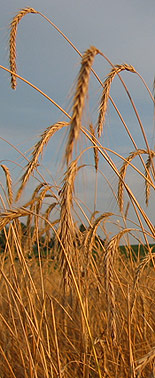 We hope you come back again!



Old Time Cornbread
Our Cornbread-Muffin Mix comes with a recipe right on the package, but by using our plain cornmeal, this recipe will taste much like the mix. It's SO simple, and virtually impossible to "flop." The only trick is to stir it just enough to moisten... too much stirring will cause the cornbread to come out very flat.

Because we raise only open-pollinated corn (not a hybrid), our cornmeal has an especially delicious flavor. It's also extra nutritious -- one study of open-pollinated corn showed that it can have nearly twice as much protein as some hybrids, as well as extra minerals.

Mix in bowl:
1 egg, beaten
1/4 c. oil
1 c. milk
1/8 c. honey (optional)

Add sifted dry ingredients:
1/3 c. Paul's Grains' Whole Wheat Flour
3 tsp. baking powder
1/2 tsp. salt
1 2/3 c. Paul's Grains' Cornmeal

Stir just enough to moisten. Pour into greased 8"x8" pan. Bake at 400 degrees for 25-30 minutes.

Note: This can be doubled and put into a long cake pan. One of our children's favorite treats is to crumble cornbread and eat it like cereal with milk and honey. :-)




"This cornbread is really good -- it's my favorite!
I put more honey in than this because I like it sweeter."
--Central Iowa customer

---