Product Lists & Information:
---
• Home
• Place an Order
• Snacks, Gifts, & Misc.
• Favorite Recipes
• Photos of our Farm
• FAQ
• Contact Us
• Helpful Links
---
Stay updated!
Join our email list to receive occasional news about site updates, new products, sales, and more. We promise not to give your address to anyone else, and you're free to unsubscribe at any time.
---
Get in touch:
2475 340th St.
Laurel, IA 50141
(641) 476-3373
pauls@paulsgrains.com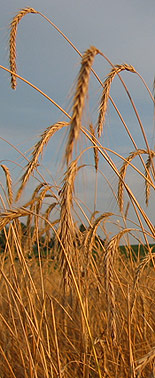 We hope you come back again!



Roasted Soybeans
This recipe is one we get many requests for. If your family is like ours, you'll have to make a lot of this snack as it will disappear quickly! :-)

1 c. dry soybeans
3 c. water
1 tsp salt

Wash soybeans. Add 3 cups of water and soak overnight in refrigerator.

Pour soybeans (with soaking water) in large saucepan. Add water to cover. Place over medium heat and bring to a boil. Lower heat, add salt, then simmer 1 hour (1/2 tsp. oil may be added to keep mixture from boiling over).

Remove saucepan from heat and drain soybeans thoroughly. Pour into shallow pan and bake in 350-degree oven for 45-60 minutes, or until soybeans are brown. Remove from oven and sprinkle with additional salt (to taste) while still warm.

Yield: 3 cups.




---