Product Lists & Information:
---
• Home
• Place an Order
• Snacks, Gifts, & Misc.
• Favorite Recipes
• Photos of our Farm
• FAQ
• Contact Us
• Helpful Links
---
Stay updated!
Join our email list to receive occasional news about site updates, new products, sales, and more. We promise not to give your address to anyone else, and you're free to unsubscribe at any time.
---
Get in touch:
2475 340th St.
Laurel, IA 50141
(641) 476-3373
pauls@paulsgrains.com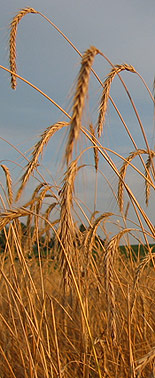 We hope you come back again!



Quinoa Salad
Special thanks to a customer, Mrs. Ruth S., for sharing this recipe with us!

3 1/2 c. water
1 1/2 c. quinoa
1 bunch green onions, finely sliced
1/2 c. dried cranberries, diced
1/3 c. cilantro, finely chopped (I use parsley I grow in my garden)
3/4 c. celery, finely diced
3/4 c. coarsely chopped pecans
1 Tb. extra-virgin olive oil
3 Tb. lemon juice
1 Tb. rice wine vinegar
1/2 Tb. sesame oil
1/4 tsp. salt
1/8 tsp. ground black pepper

Bring water to boil. Add quinoa; stir, cover, and reduce heat to a simmer. Cook until quinoa is soft and water is absorbed, about 25-30 minutes.

Add green onions, dried cranberries, cilantro, and celery to a large salad bowl. Toast the pecans in a small skillet and add to salad bowl. Add the olive oil, lemon juice, vinegar, sesame oil, salt and pepper to the bowl. Stir to mix.

Stir in the quinoa when it has cooked and cooled slightly. Set aside for an hour if possible to allow flavors to marry; serve at room temperature.

Serves 10.




---